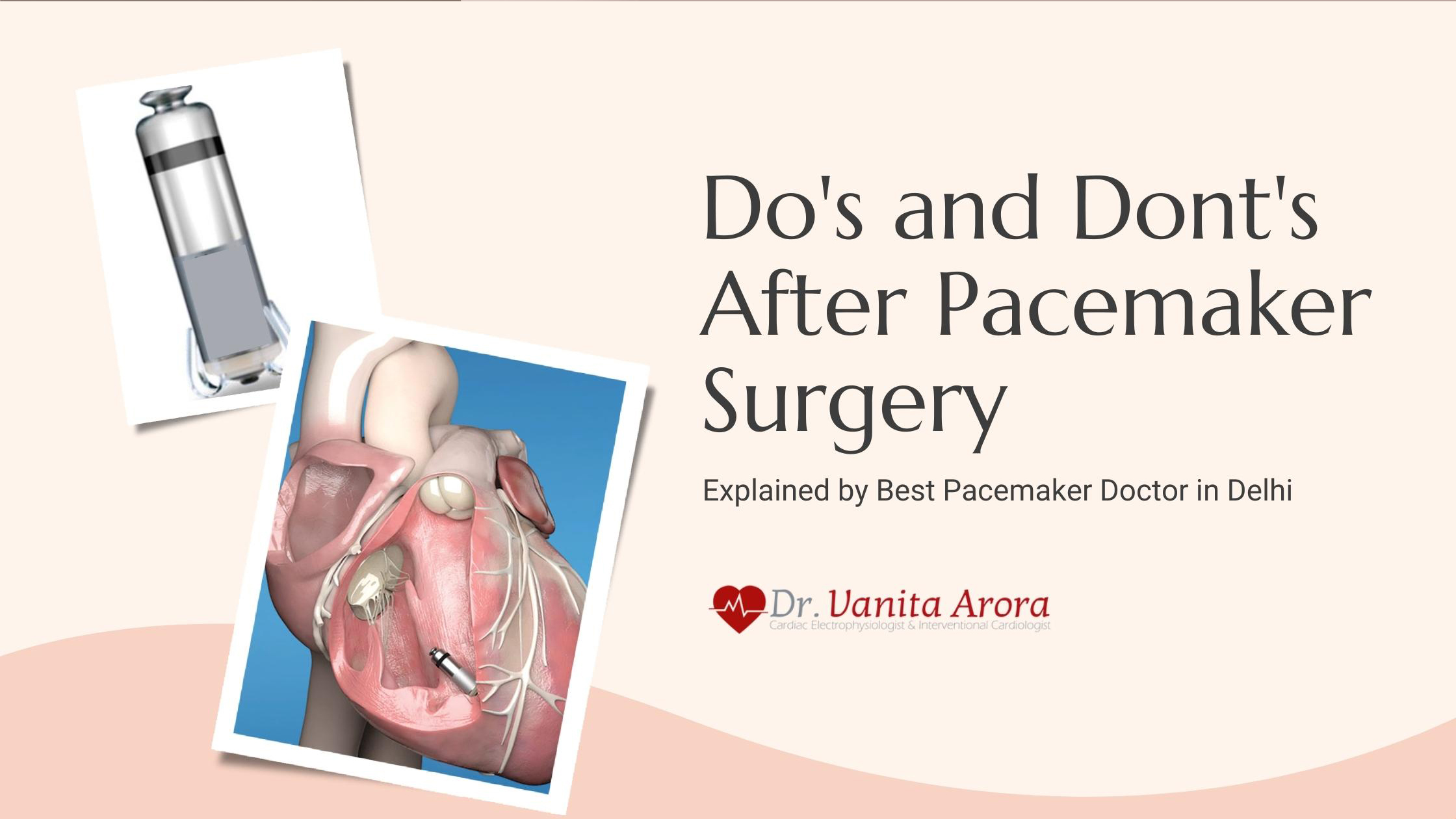 January 24, 2022 | 3 minutes read time
There are many precautions one needs to take after a pacemaker implantation surgery. Before you're discharged from the hospital, these are generally explained by a pacemaker implanter surgeon or a nurse.

Following these do's and don'ts is essential to reduce the risk of infections and other complications. In this blog post, therefore, the best pacemaker surgeon in India explains the dos's and don'ts you must know.

Let's start with:
Do's After Pacemaker Surgery

Here are the do's:
• Do take the prescribed medications as advised including antibiotics.
• Do feel free to drink and eat as you did before the pacemaker surgery, says the best pacemaker surgeon in India.
• Do remember to take the medical device ID card. It contains information about the leads, chambers paced, the manufacturer of the pacemaker implanted.
• Do limit your arm movement of the side of implant. To avoid muscles from tensing, use only small motions and keep your shoulders relaxed.
• Do follow up with your doctor to check if your medications need to be adjusted.
• Do contact the pacemaker surgeon if the device feels warm or red. Some pain is inevitable once the local anesthesia weans off for which pain killers are given, but if pain is unbearable do let your pacemaker implanter surgeon know.

Don'ts After Pacemaker Surgery In this section, Dr. Vanita, the top pacemaker doctor in Delhi, sheds light on the don'ts after pacemaker surgery.
• Don't rub or press the chest area where the incision is made – not even nearby areas
• Don't try to lift heavy objects, asserts the best pacemaker surgeon in India
• Don't try to lift a child from the side where the pacemaker is implanted
• Don't engage in intense physical activities such as exercising – and that includes restricting arm movement. It can be stretching them behind you or overhead or leaning on your arms, or rotatory movement on the shoulder of implanted side.
• Don't use any heavy machinery until it's deemed okay by the best pacemaker surgeon in India.
• Don't wear clothing that is overly tight and presses against the incision area
• Don't let moisture (or water) near the incision site until your doctor instructs. Normally the first dressing of wound is done at 48 hrs, following that at 48 hrs the dressing is opened by the pacemaker implanter surgeon and patient is allowed to take a bath and clean the pacemaker site. Betadine is painted on the incision after drying.
• Don't play sports – refrain from all intense activities until your doctor finds it's okay to do so
Now that you're equipped with the knowledge of do's and don'ts after pacemaker surgery, it's time to finally tell you more about Dr. Vanita and how you can fix an appointment.

Do You Need Pacemaker Surgery?

Schedule an appointment with Dr. Vanita, the best pacemaker surgeon in India, to understand if you need surgery. At present, she works in the best hospital for pacemaker surgery in India, i.e., Indraprastha Apollo Hospital, Delhi.

She is known for her experience and expertise in leadless pacemaker implantation, AICD implantation, atrial fibrillation management, radiofrequency ablation, and more. In 2017, at the Times Healthcare Achievers Delhi NCR event, she was awarded "Rising Star – Cardiology".

To book an appointment quickly, call +91 98738 79994. Another way of getting in touch with her is by email. And you can drop your email query at doctorvanitaarora@gmail.com . Or fill this form alternatively.